Chicago Blackhawks - 3 Gallon Popcorn Tin
---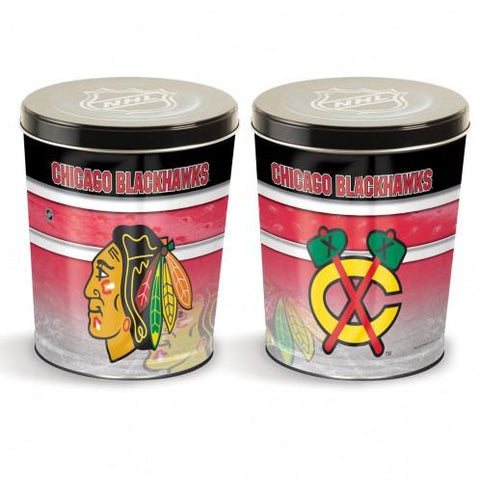 All Our Signature Flavors Made Fresh Every Day From:
NON-GMO KERNELS
PRESERVATIVE-FREE
GLUTEN-FREE
 Flavor Guide
Chicago Kernel Mix™

Classic Caramel and Golden Cheddar mixed together.
Customers Favorites
Top Seller Mix

Classic Caramel

A special blend of sweet, salty ingredients and rich butter that provides a delicious glaze over corn we call it classic caramel.
Perfect taste of buttery caramel

Golden Cheddar

The cheesiest popcorn made with sharp-aged golden cheddar.
Cheese lover's dream popcorn
Top Seller Popcorn

Butter Popcorn

Popped in coconut oil and lightly salted for the best butter popcorn.
Best movie style popcorn without having to go to the movies
Light & addictive taste

Bacon Cheddar

Bacon flavor combined with our sharp-aged cheddar.
it's a match made in heaven!
What isn't better with bacon?

BBQ 

Unique blend of sweet and cheesy barbeque taste popcorn

Fire Cheddar

A spicy cheddar sure to please anyone who likes it a little hot!
Fire Cheddar is Spicer then our Smokin' Chicago

Pizza 

Cheddar cheese blend with special pizza flavor seasoning.

Salt & Vinegar 

The same great tart salt & vinegar flavor you love with your favorite chips!

Smokin' Chicago™

A savory pepper cheddar pop with smoky barbecue flavor.
Customer's Favorite Spice Popcorn

White Cheddar

White cheese made from sharp-aged cheddar that cheese lovers savor.

Chocolate Drizzled Caramel

Find pure decadence in Classic Caramel drizzled with rich dark chocolate. .

Caramel Cashews

A sophisticated mix of Classic Caramel and roasted cashews.

Caramel Pecans

Indulge blend Caramelized Corn & Pecans.

Caramel Mixed Nuts

An irresistible blend of sweet and salty with Classic Caramel and mixed nuts together.
1 Gallon Tin Dimensions:
Top, 10-1/4" DIA. Bottom, 9-1/8" DIA X 11-1/4" HIGH
Price may vary based on flavors
Related Products
---